Dragon Ball related titles
As a huge Dragon Ball fan there was no way to miss this kind of opportunity and not to write about it, especially when more and more stuff is appearing one by one. It's a common thing to put either some famous character / scene / gag from particular anime series into another. One can describe it as crossovers.
I came across this kind of movement while watching
Lucky Star
. As for Konata was a gamer and at the same time otaku it could be expected that, sooner or later, something like this would happen. One can find there small scene, though enjoyable one, shown at the end of the episode. I just loved this series anyway but Dragon Ball cameo made it even better in my point of view. Here is some video containing a karaoke sequence:
The second series will be
Keroro Gunso or Sgt. Kerokero
- my favourite one and that's why my nickname got it as well! Frogs, frogs everywhere from the acient times to Gundam like univ., what else one desire?
Sket Dance
is said to replace Gintama in some sort of way, for it's also about 3guys being hired for jobs.......
Another
good example of crossover, seen at
KANZENSHUU
, is cooperation between Akira Toriyama & Osamu Akimoto in
Kochira Katsushika-ku Kameari Kōen-mae Hashutsujo
. They teamed up twice (1991 and 2006). A good gag-manga with crucial elements from both series, though short. I higly recommand to read it. Who's victory will it be? What Kochikame can do to Dragon Ball characters? One can only guess.
Have you ever thought what for are your nose hair? If you have no idea check
Bobobo
and DB Vegeta & Chaozu reference.
School Rumble
is about Tsukamoto Tenma, an ordinary 2nd year high school student who has fallen in love with one of her classmates, Karasuma Ooji. However, currently she is unable to confess her feelings to him. To make things worse, she found out that Karasuma is transferring to another school in a year. On the other hand, Tenma's other classmate, Harima Kenji is also in love with Tenma. Not being able to confess his feelings, Harima gets depressed day by day. This ep was like lets do DB in school, why not to...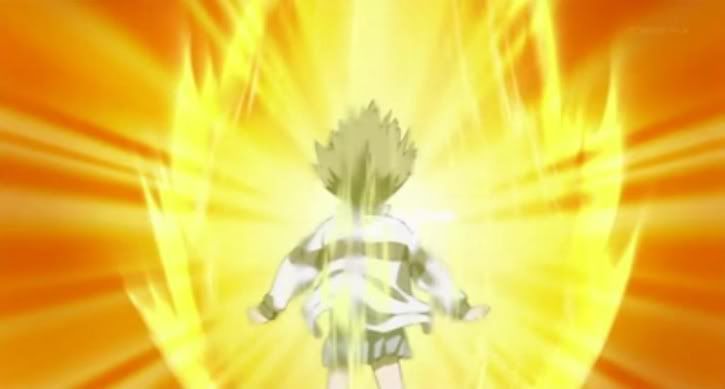 Sayonara Zetsubou Sensei
- what can I say, fusion time! You must watch the series, it's so funny :D
The series
Abenobashi Mahō Shōtengai
can be compared to Dragon Ball Evolution because of failed SSJ2 powers presentation. I haven't seen it but if you're fancy watching it just click on the provided link and enjoy.
Blood Lad manga
- vampire gay stuff shown a kamehame attempt, nice drawing style yep it is damn good.
Gintama
is a medium-size (when it comes to numer of episodes) anime. In it one can find samurai & aliens, there is also military squad. Each of entire episode tells different story, nontheless always enjoyable.
Based both on anime (Dream 9) and manga (
Cross Epoch
) crossover of
One Piece
&
Dragon Ball
can be described as something unique. Not only do they're said to share mutual content but also one reveal same passion about them. There was also scene of Sanji turning into SSJ2.
Fairy tail
anime as I recall is about guild of mages, which fights wiith various villiains collecting sth or simply taking it back. Kinda One Piece but with magic and groups of people with same interest. Where is Dragon Ball here? DB was about fighting bad guys & finding 7 balls - now read my first sentence;] Lastly, while watching episode number 142? I sad two monster girls: Mirajane "The Demon, Mira" Strauss and on of Legion team member which got into possesion of Mira-ne demon body. They're so fast as Goku was, nice!
Medaka Box
is a good metaphor creation. Noone just noone would disagree if asked about similarity to Dragon Ball ( Zenkichi made to war Medaka scene)
. Storyline bound to resamle this from DB, so does character and surroundings. Here colorful balls from 13th movie when facing Janemba. Funny it should say how they implement elements to series.
As summer 2012 season began, so did, to my happiness, series common to Dragon Ball. The first one is called
Joshiraku
. It is a story about cute, yet ordinary girls narrating viewer about their normal lifes. I decided not to drop it, for I enjoy watching peaceful anime related to Japanese customs & daily life occourances. Even if it isn't 100% crossover a little hint for DB fans was included. Speed of ki beam!
Lastly, also from this season,
Bindougami ga!
. It is a great title, especially when one is fed up with same plots from previous creations. There's a misfortune God Momiji ( bitchy flat chested manga & drama lover) and a hot girl named Sakura which has absorbed so much "happiness energy". The Poverty God sets out to take away Sakura's ability to absorb this energy. And it will be for like 12 more episodes. How this story will ends? Each of you probably knows it arleady. When energy is the main topic it was obvious for Dragon Ball to pop up. One can see there Son Goku and Vegeta becoming a super saiyans.
I apologize for such a long post attack, here is some good track of Animetal group. ENJOY it over9000!
PEACE!